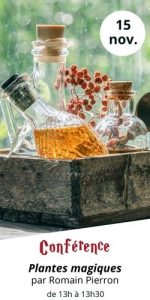 Come and discover Professor Pierron's course and the magical properties of the plants that surround you.
Workshop-conference animated by Romain Pierron, lecturer in plant physiology, creator of magic potions.
Magical Plants
November 15 from 1:00 pm to 1:30 pm at the University Library of COLMAR-UHA
This conference takes place within the framework of :
The University of Witchcraft
From November 7 to 17, 2022, go back to school at the University of Witchcraft and discover the schedule of courses we have prepared for you to help you become the wizard you have always dreamed of being!
The UHA Learning Center invites you to join the University of Witchcraft and Wizardry. Put on your wizard's robe and dive with us into the universe of the wizard saga with millions of fans!
A dozen teachers from UHA become Master Wizards for the duration of the event. Find the whole program here.
During these ten days of immersion, you can learn to decode the composition of the sky and the constellations, attend magical conferences, (re)discover classics of fantasy literature, memorize formulas to disappear, decipher runes, solve riddles etc.
And, don't miss any activity to try your luck to win, maybe, a reward!
A big thank you to all our partners without whom this event could not be held: the Crous Strasbourg, Enastros, Team Factory, the municipal libraries of Mulhouse, the store Mon Univers and the Nef des Sciences.