Location
The LVBE is located in Colmar, capital of Alsace Wines, close by Alsatian vineyards and being part of the Biopole of excellence in Agronomy and Viticulture, Adrien ZELLER.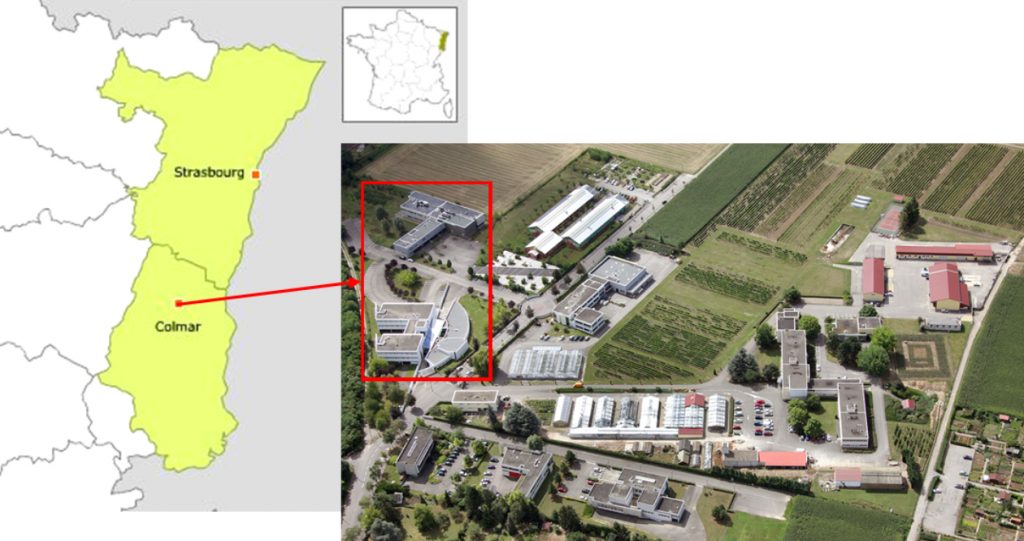 The Biopole gathers different actors:
the French Wine Institute (IFV),
the National Research Institute for Agriculture, Food and the Environment, INRAe Grand-Est,
the Chamber of Agriculture, viticulture section,
a divison of the Interprofessional Council of Alsace Wines (CIVA),
the National Forestry Office (ONF),
the Cross-border Institute for Development and Application Agronomical (ITADA),
the Mixed Syndicate for Agricultural Recycling of the Upper-Rhin (SMRA68),
the Research & Development center for fertilizers and agrosystems quality, CRITT RITTMO Agroenvironment.
At the university level, on the Biopole site, there are:
the Department of Biological Engineering of the University Technological Bachelor (BUT) of Colmar with the Degree in Biological Engineering – curriculum Agronomy, the Professional Bachelor by apprenticeship in Biotechnology,
the Agrosciences Department of the Marketing and Agrosciences Faculty (FMA) with a Bachelor's degree in Agronomy and Agri-food and three Master's degrees:

a Master's in Agricultural, Food and Environment Sciences and Technology,

a Master's in Vine and Wine co-accredited with the University of Reims Champagne Ardennes | URCA. And recently and
a binational Franco-German Master in Viticulture and Enology (FAVO), has been opened in collaboration with the Hochschule Ludwigshafen am Rhein / Weincampus Neustadt.