Euréka project Sept. 2017-Feb. 2021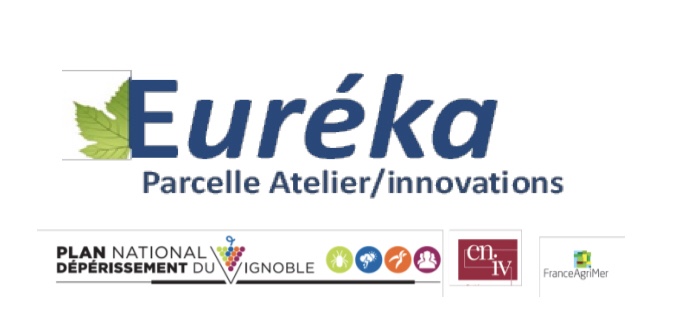 The Euréka project is part of the "Wood diseases" research area.
Grapevines are subject to biotic and abiotic factors that inexorably lead to yield losses in wine production. To protect this heritage and fight against these constraints, viticulture must constantly adapt its practices and treatments in order to maintain healthy and productive grapevines.
Since the emergence of Powdery mildew, Downy mildew and Phylloxera, a "comprehensive" viticulture took place at all levels, from research to the profession. Today, it is essential to set up an original control plan that would bring together scientists and wine professionals to develop strategies that will enable 21st century viticulture to overcome the crisis of this decline.
The many challenges make impossible for winegrower alone to solve them:
new sociological expectations requiring agro-economic practices that are more respectful of ecological balances in the environment and
a reduction in phytosanitary treatments.
We propose a multidisciplinary approach, focusing initially on the worrying problem of wood diseases. The approach adopted involves all the actors playing a role in grapevine cultivation chain and requires a perfect global vision of "Plant/Environment/Viticultural Practices" interaction.
Based on a precise synthesis of all the practices used over the centuries, we present complementary approaches depending on the state of progress of the diseases:
an innovative curative approach via bio-chemical plant endotherapy techniques applicable to various pathogens in a targeted manner and avoiding environmentally unfriendly aerial dispersion,
a simple and ingenious preventive approach that rethinks the architecture of our grapevine following the example of the use of rootstocks to fight phylloxera,
a study of the impact of grafting and rejuvenation, which will make it possible to reinforce the curative and preventive approaches.
We are confident that, based on the data from the "Grapevine Trunk Diseases" observatory and other observations, we will be able to identify cultural practices that are favourable and unfavourable to these diseases. We will also set up a knowledge matrix by promoting the knowledge of the winegrower.
The Euréka project aims to propose new control methods by bridging the gap. All the knowledge and working hypotheses will be applied, tested and explained in an innovation workshop plot.

The Euréka project will bring together various players in the viticultural profession, the divison of the Interprofessional Council of Alsace Wines (CIVA), Alsace Winegrowers Association (AVA), the French Wine Institute (IFV), the Chamber of Alsace Agriculture, viticulture section, the Hébinger nurseries, the Viticultural High School " Les sillons d'Alsace ", the Karlsruhe Institute of Technology and the University of Haute-Alsace.
Partners of the Euréka project
Partners of the Euréka project