Useful links
Here you will find links to websites that we found particularly interesting.
Enjoy reading them!
FUN MOOC Anatomy of wood
The excellence of higher education for free online courses open to all.
Collaborative platform: WINETWORK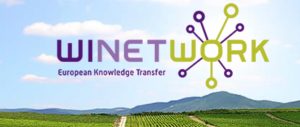 WINETWORK is a European collaborative project for the exchange and transfer of knowledge and innovation between European wine regions with the aim of increasing the productivity and sustainability of the wine sector.
Wood diseases have their website

This site presents the projects that federate the research activities, carried out by French scientists, aiming to better understand these diseases and to develop new strategies for vineyard protection.
ROOTS
This website of the University of Wageningue (Netherlands) presents a collection of 1002 drawings, the result of 40 years of root system excavations in Europe, mainly in Austria.
The drawings, their analysis and descriptions were made by three researchers from the Institut Pflanzensoziologisches, Klagenfur. Their work has led to a number of publications, and is the counterpart to the work of John E. Weaver in Nebraska, USA. The scans of the original drawings, made by Univ.-Prof. M. E. Lichtenegger, cover a wide variety of species from agricultural crops to associated deserts, but also to natural vegetation, from orchids to alpine shrubs and trees. The drawings are of the rooting systems of individual species carefully isolated from their environment, and drawn in detail:
https://images.wur.nl/digital/collection/coll13/search/order/title/ad/asc

The Conversation is an independent source of news analysis and informed comment written by academic experts, working with professional journalists who help share their knowledge with the world.
Access to expertise through high quality, independent journalism is key to a well-functioning democracy. The Conversation aims to provide the expert insight needed to better understand current affairs and the complex issues we face. The team of editors work with experts drawn from universities and research institutes across the world, sharing their knowledge in a way that is accessible to non-specialists. Bringing expert insights to current affairs, explaining new research findings, or shining a light on topics that deserve greater discussion, they strive to improve the quality of public debate and ultimately to help everyone make better, more well-informed decisions.
The Conversation is free to read (we'll never go behind a paywall), and our content is free to share or republish under a Creative Commons CC-BY-ND licence – just follow our simple republishing guidelines.